Sun City West Homes For Sale, Sun City West AZ by Del Webb
Sun City West Retirement Community in Sun City West Arizona built by Del Webb Search Homes for sale in Sun City West,Find your favorite floor plan and view Sun City West Community Videos.
About Sun City West: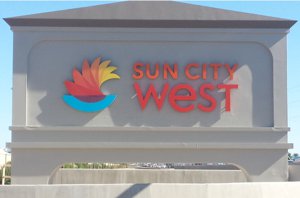 Sun City West: Play a few exciting games of pickleball with friends Sun City West offers inside and outside courts; enjoy a leisurely dip in one of three sparkling community pools; or watch your grandkids frolic on the well-equipped playground while you picnic with your family. When you're living in Sun City West, one of Arizona's premier 55-and-up communities, you have exclusive access to hundreds of amenities that the area has to offer.
Sun City West Clubs, Golf and Fitness
From billiards to outdoor concerts, Sun City West is packed with things for active adults to do. With more than a hundred clubs that span a wide range of interests, including card playing, arts and crafts, and music, the sense of community in Sun City West makes it one of Arizona's most sought-after retirement destinations.
Sun City West Real Estate Quick Facts
Price Range: Mid $100,000 to $800,000
Age Requirement's:55+
Home Styles: Single Family, Duplex and Condos
Size of Community: Approximate 16,900 Homes
Community Description: Golf Community
Gated/Guarded: No
New or Resale: Resale Only
When Constructed:1978 to 1997
Sun City West Arizona R.H. Johnson Recreation Center, is a 48-acre gem; 118,000 square feet of activity-packed space sits in the center of 48 acres of beautifully landscaped property that Sun City West residents are welcome to enjoy year-round. Three more expansive activity centers dot this bustling community, which makes it easy to access all the things you love. There are four well-equipped recreation centers, several churches of various denominations and extremely accessible shopping
centers along our tree-lined, golf cart-legal streets. Volleyball courts, lawn bowling arenas and shuffleboard courts are all over the community. With fitness centers, plenty of outdoor exercise areas and Del Webb Hospital, a state-of-the-art facility run by Banner Health, Sun City West is the ideal place for active adults whose health and wellness comes first.
Seven scenic golf courses: sprinkled with par 3, 4 and 5 holes have transformed Sun City West into a golfer's paradise. Whether you're a seasoned old pro who thrives on the challenges that cleverly designed greens present or a novice who's just held your first Big Bertha, you'll find your place on the greens and fairways of our stunning golf courses.
Sun City West's Rich History, Culture and Lifestyle: Since 1978, Sun City West has been the place to be for active, 55+ adults who enjoy staying active, social and physically fit. Designed by Del Webb Corporation, which successfully created and grew Sun City into its current proportions, Sun City West is a modern, thriving community that blends culture and a pleasant atmosphere into one of Arizona's premier retirement areas. Supermarkets, banks and retail stores, as well as pharmacies, post offices and fitness centers, make Sun City West an all-inclusive 55-and-up community. You'll find outdoor walking tracks, dance studios and ballrooms, and tennis courts all over this 15,000-household community, which means everything you need is within a several-block radius.
Homes and Real Estate in Sun City West: Sun City West, just 19 miles northwest of downtown Phoenix, contains a healthy mix of single-family and attached homes. Construction in Sun City West began in 1979 and continued through 1997, which gives the area a diverse, multi-faceted feel. Since it's an unincorporated area without the burden of schools, property taxes are low; yearly association fees, which cover club usage, grounds maintenance and more, make Sun City West one of the most affordable 55+ communities in the country. Single-family homes range from cozy, 920-square-foot houses to roomy 3,500-square-foot residences. People who prefer attached homes can enjoy a wide variety of floor plans ranging from 744 to 1,996 square feet. Sun City West's huge variety of homes, its exciting amenities and its close proximity to Arizona's largest city, Phoenix, make it the perfect place to call home for active seniors from all over the country. When you're ready to explore everything that Sun City West has to offer, call me at (623)810-9988 or email me. I'll help you find the perfect house in one of Arizona's premier retirement communities so that you're free to do the things you love with family and friends.
There's so much to do at Sun City West—are you ready for these knock-your-socks-off amenities?
Aerobics and dance studios
Arts and crafts studios
Ballrooms (2)
Banks
Basketball courts
Billiards tables (30)
Bocce ball courts (14)
Bowling alley
Card rooms
Ceramics studios
Churches and worship centers (18)
Clubhouses (4)
Computer lab
Concert hall
Del E. Webb Hospital
Fitness centers (4)
Gardening plots
Golf courses (9)
Grocery stores
Horseshoe pits (4)
Indoor pools and spas (3)
Lawn bowling rinks (32)
Library
Miniature golf courses (2)
Outdoor pools and spas (3)
Parks and natural space
Pet park
Pharmacies
Pickleball courts (8)
Picnic area
Platform tennis courts (4)
Playground for children
Racquetball courts (2)
Restaurants (9)
Retail shops
RV storage
Shuffleboard courts (5)
Softball field
Stardust Theater
Table tennis
Tennis courts (27)
Volleyball courts
Walking track (indoor)
Woodworking shop
There's never a dull moment at Sun City West. Dozens of clubs, groups and activities keep residents busy when they're ready to join the fun.
Canine Companions
Sun Cities Saddle Club
Sunshine Animal Club
Basketeers
Beaders
Calligraphy West
Ceramics West
Clay Club
Cooper Enameling
Creative Silk Flowers
Creative Stitchers
Encore Needle & Craft
Leather Carvers
Macr-Cro-Knit
Metal Club
Palo Verde Patchers
Porcelain Painters
Rip 'N' Sew
Rosemaling – European Folk Art
Stained Glass Crafters
Sun West Art
Tole Artists
Toy-Ki Silvercraft
Weavers West Guild
Woodworking
Cards and Games
Canasta West
Card Players of SCW
Euchre
Club 52
Cribbage
Five-Hundred Card
Kiva West Duplicate Bridge
Mah Jongg
One-Partner Bridge
Pan Card Club
Pinochle
Ladies' Saturday Contract Bridge
Saturday Night Gamesters
SCW Bunco
Sheepshead
Tuesday Contract Bridge
Computers and Technology
Computers West, Mac and PC Lessons
Dance and Theatre
Country Western
Dancing Arts
Hillcrest Ballroom
International Social Dance
Latin Ballroom
Line Dancers
Stardust Theatre Council
Theatre West
Westerners Square Dance
Fitness
Energetic Exercise
Handi-Capables
The Fitness Club
Water Fitness
Yoga
Hobbies and Interests
Agriculture
Automotive Restoration
Chess
Connections
Coin and Stamp Club
Flying Wheels Motorcycles
Friends of the Library
Genealogy
Hot Shot Billiards
Investment Club
Johnson Lapidary
Mis-Cues Ladies' Billiards
Model Railroad Club
Photography West
Recreational Vehicles (RVs)
Rockhounds West
SCW Broadcast Club
Music
Karaoke
Musicians' Club
Organ and Keyboard
Rhythm Tappers
Westernaires Chorus
Outdoors
Social
Men's Club
SCW Boomers Club
Singles Club
Women's Social Club
Sports
Bocce
Bowlers Association
Crestview Bicycle Riders
Johnson Lawn Bowls
Mini-Golfers
Pickleball
Platform Tennis
Racket
Racquetball/Handball
Shuffleboard
Softball
Sun Cities Ski Club
Table Tennis
Tennis
Western Horseshoe
Women's Social Golf